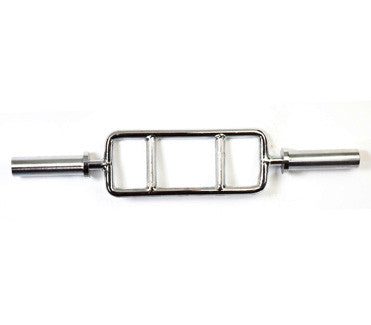 Troy USA - Olympic Triceps Bar
The 34" Olympic triceps bar is designed specifically for maximum concentration of those hard to hit triceps muscles. The unique design of the Troy Olympic Triceps bar allows unrestricted arm movement and eliminates discomfort to elbows, forearms, and wrists. The triceps bar is constructed in steel construction and a multi-grip design allows easy shifting into different positions. The 2" diameter weight plates are a great addition to add to this bar. One of the most affordable bars on the market today, that never comprises on style or quality.
Features
Steel Construction
Chrome Finish
Bolted Sleeve Assembly
Knurled Grips
Great for triceps and Hammer Curls
---
Troy Barbell & Fitness Authorized Dealer
EquipFitness is the authorized dealer of Troy Barbell & Fitness products for Nevada, California, Utah & Arizona. For more than 20 years Troy Barbell has been the industry leader in quality and innovation fitness products for home and commercial environments.
Whether you're looking to outfit a gym, apartment, school or home, Troy Fitness delivers stylish durability and value with three distinct product lines each uniquely engineered for your specific application.
Troy Barbell & Fitness Commitment
Troy Barbell & Fitness has warranties that set the industry standard and they understand that the strength of any warranty is only as good as the people who stand behind them; That's why Troy, VTX & USA Brand equipment is only sold through a network of committed, authorized dealer partners like Equip Fitness and backed by a team of passionate free-weight enthusiasts.
If you ever have a question, comment or concern, we're eager to provide an answer. Please feel free to contact us directly at (702) 617-6198.