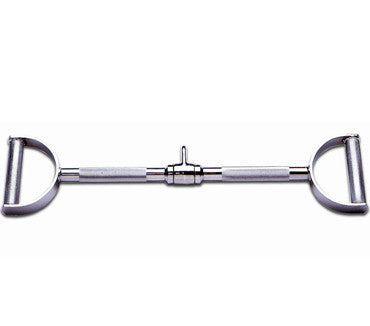 Troy USA - 24" Straight Pro Style Lat Bar
Troy 24" Straight Pro Style Lat Bar promotes the most comfortable gym experience. With a forged swivel and specially-designed tapered handles for better grip and feel, the Troy 24" Straight Pro Style Lat Bar exercises the muscles of the back, shoulders, and arms. Using a perpendicular range of motion, this bar is perfectly angled to give a deeper stretch for better development. The straight pro style lat bar gives you a rotating swivel and allowing you multiple places to grip. This piece is the perfect addition to any home gym facility or functional commercial gym.
Features
Steel construction
Chrome Finish
Inner and Outer Knurled Grips
Tapered outer grips
Forged Steel Swivel
Approx: Weight 10 lbs.
Length 24
---
Troy Barbell & Fitness Authorized Dealer
EquipFitness is the authorized dealer of Troy Barbell & Fitness products for Nevada, California, Utah & Arizona. For more than 20 years Troy Barbell has been the industry leader in quality and innovation fitness products for home and commercial environments.
Whether you're looking to outfit a gym, apartment, school or home, Troy Fitness delivers stylish durability and value with three distinct product lines each uniquely engineered for your specific application.
Troy Barbell & Fitness Commitment
Troy Barbell & Fitness has warranties that set the industry standard and they understand that the strength of any warranty is only as good as the people who stand behind them; That's why Troy, VTX & USA Brand equipment is only sold through a network of committed, authorized dealer partners like Equip Fitness and backed by a team of passionate free-weight enthusiasts.
If you ever have a question, comment or concern, we're eager to provide an answer. Please feel free to contact us directly at (702) 617-6198.