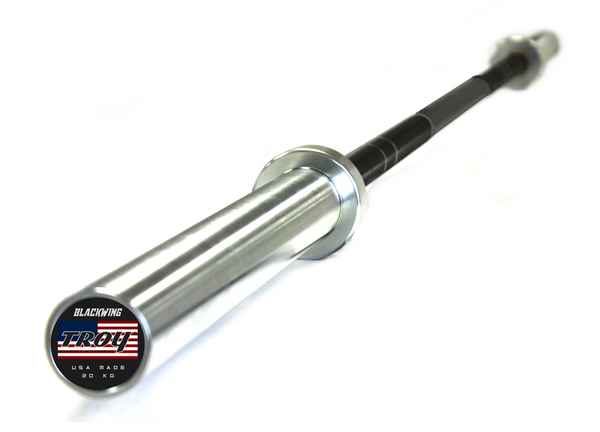 TROY The Troy Blackwing Bar 7ft.
Bar Dims:
Overall Length: 86 5/8"
Inside Shaft Length: 51"
Loadable Sleeve Length: 16 1/4"
Shaft Diameter: 28.5mm

Specs/Features:
Make - U.S.A.
Yield Strength - 213,300 P.S.I.
Shaft Finish - Black Oxide
Sleeve Finish - Bright zinc
Knurling - Medium
Dual knurl marks - For Powerlifting or Olympic Lifting
Bushings - Bronze, Self-lubricating
Sleeves Attached - Dual Snap Ring
Center Knurling - NONE
Weight - 45lbs (20.4kilos)

Product Description: The new TROY Blackwing bar is 100% manufactured in the USA. With a U.S. lab tested yield strength of 213,300 P.S.I., this bar is in a class by itself - so impressive, we put the TROY badge on it as the established benchmark for American made training/power bars. It can be put into any application without worry, and is virtually maintenance free. Perfect for use in a professional, college or high school weight room setting. Contact your sales rep, click the Talk to Troy icon or request a quote today to learn more about the all new AOB-1500T.