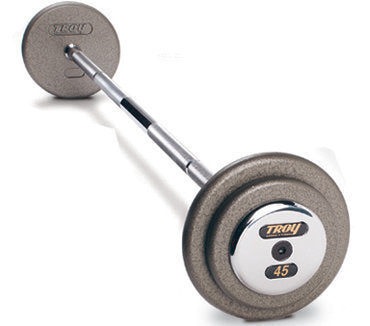 TROY Pro-Style Straight Barbell with Gray Iron Plates, Chrome Bar, and Chrome Endcaps 20-110 lb Set (10lb increments)
The 20lb to 110lb Troy Barbell Pro-Style Barbell with Chromem End Capsare pre-weighted with Troy's top of the line weight plates made with precision machining to achieve top rated tolerance levels and weight accuracy. we offer Troy Fixed Barbells sold in 20-110 lb or 25-115 lb sets. They are ideal for tough gym settings, such as college fitness centers, high school weight rooms, training studios, military gyms, plus, much more.
The commercial TROY pro style fixed barbells are quality engineered and built to last. These pro style fixed barbells are pre-assembled to ensure that all TROY products meet the standards required in heavy used commercial applications.
All of Troy's pro style barbells use solid steel bolt design. These barbells consist of straight or curl bars and feature deep set knurling for functional performance and top-of-the-line TROY high grade Hammertone Gray plates, premium black plates or rubber black plates. The chrome or rubber encased end caps include the TROY name and numbers for easy identification.
Distance Between Collars: 40.75"

Product Options:
Available in: Gray or black plates, straight or curl bar, chrome or rubber end caps, 20-115 lb. in 10 lb. increments
*NOTE NO RETURNS ON EXCHANGES ON ALL PRO-STYLE DUMBELLS AND BARBELLS