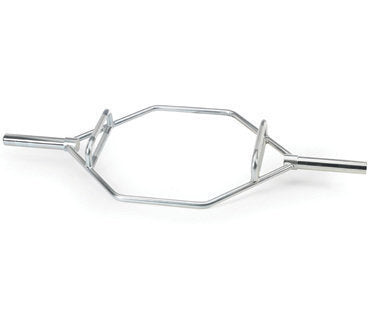 TROY Olympic Hex Bar
Bar Dims:
Overall Length - 56"
Loadable Sleeve Length -10"
Shaft Diameter - 25mm

Specs/Features:
Make - International
Weight Capacity - 600lbs
Shaft and Sleeve finish – Chrome
Knurling - Medium
Sleeves Attached – Solid Steel, fixed
Weight - 46 lbs

Product Options: See Item GOT-56 (parallel handles only)

Product Description: Our VTX "hex" bar with both raised and parallel handles is ideal for shoulder shrugs and dead lifts. It's more efficient than a traditional barbell because the weight is kept more in line with the body of the lifter than in front, reducing stress to the lower back. The spacious hexagonal design makes it easy to step in and out of, while the chrome finish resists rust and corrosion. Solid steel sleeve design.