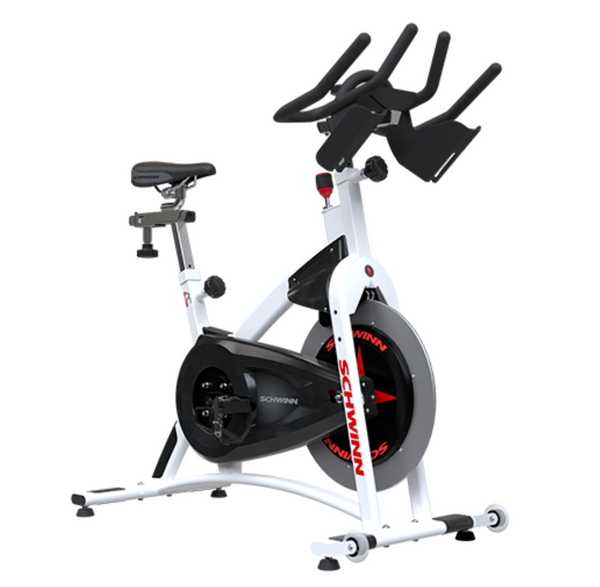 Schwinn AC Sport Bike
With the first production bike designed specifically for indoor cycling, Schwinn set the standard for an industry. With the AC Sport, we've taken it to a whole new level. Riders experience enhanced comfort with adjustable seat slides and handlebars, and durable stretch pads. A product of input from hundreds of users, cycling instructors and fitness buyers, this innovative bike belongs in a class by itself – but your riders will definitely want it in theirs.
W: 20 IN (51 CM)
L: 43.5 IN (110 CM)
H: 50 IN (127 CM)
MAX PRODUCT LENGTH: 50 IN (127 CM)
MAX USER WEIGHT: NA
PRODUCT WEIGHT: 115 LBS (53 KG)
SHIPPING WEIGHT: 129 LBS (59 KG)
Features
Carbon Blue™ durable toothed drive train provides an Authentic Cycling experience
Magnetic Resistance Brake for zero drive train maintenance
Optional 4iiii crank arm powermeter delivers accurate strain gauge power feedback to help riders train harder and smarter.
Optional Echelon2 Console provides immediate feedback to help riders train with results
Morse Taper pedals for increased durability and reliability
Schwinn Fit System enables versatile seat and handlebar adjustments for refined positioning
Frame Finish – E-Coated & Powder Coated Steel
Front transport wheels making it easy to move the unit
Recommended User Height: 4'11" to 6'8″.
All Schwinn AC indoor bikes come standard with Double Link pedals with SPD and toe-clip combinations to accommodate both cycling cleats and regular athletic shoes. The bikes are also compatible with the Schwinn Triple Link pedal upgrade. Triple Link Pedals accommodate Look Delta and SPD style cleats to simulate an outdoor riding experience. They also easily convert to accept traditional athletic shoes with the snap-in locking toe clips.
Technology 
Carbon Blue™
For nearly 20 years, Schwinn chain drive bikes have led the indoor cycling industry. Even as other companies began to use belt drives, we stayed true to our technology for one simple reason: belt drives felt nothing like riding an outdoor bike. Today, all of that is changing. There is a revolutionary new belt drive taking the outdoor bike community by storm, and we've adapted it and brought it indoors on the AC Performance. This next generation system delivers guaranteed durability and virtually zero maintenance, without sacrificing the Schwinn authentic cycling feel that riders know and love.