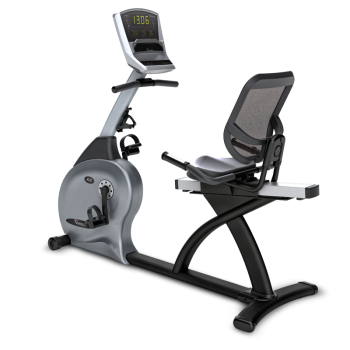 Recumbent R20 - Classic Console
The Vision Recumbent R20 bike offers a step-thru recumbent frame design for easy access to the seated position. The Comfort Arc seat with lumbar support provides just the right amount of support and cushioning for an effective workout.
The easy to ride  Vision Recumbent R20 bike is the most inexpensive bike in the series. With three consoles it allows you to customize your ride. Choose from either the classic 7" or 10" touch screen, and up to 17 different presets. The sleek design is not only stylish but also durable, with a sturdy frame and a 5- year warranty.
---
Vision Fitness Fitness Equipment & Home Gym Authorized Dealer
We are the authorized dealer for Vision Fitness in Nevada, Arizona, California and Utah. Vision Fitness designs award-winning fitness equipment, including treadmills, elliptical trainers, fitness bikes and strength equipment for the home fitness and commercial fitness markets.
Our professional team of consultants utilizes their experience to fully understand and anticipate the needs of our residential and commercial clients. Our vast selection and extremely competitive pricing ensure that you'll find the right equipment.
In conclusion, we always strive to provide the highest quality of service after each and every sale. We are always there to answer any questions you may have and to provide continuous care with your purchase. Our relationships don't end with the delivery of our customers' products, this is only the beginning.
Call (702) 309-4198 or Email If You Have Questions