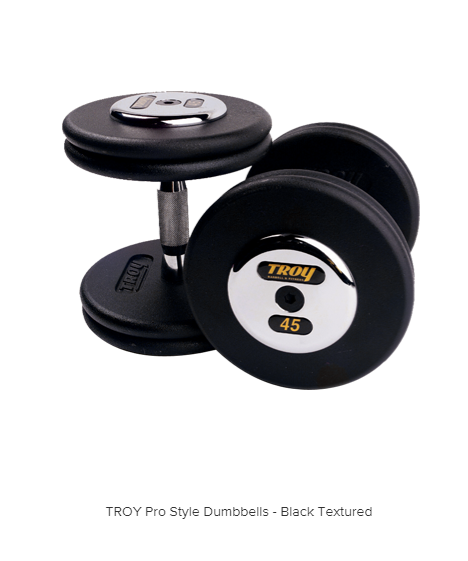 TROY - Pro Style Dumbbells - Black Textured
Featured Model: Black textured plates with contoured handles & chrome end caps.
Our TROY pro-style dumbbells are all professionally pre-assembled by us to ensure that they meet the standards required in heavy use, commercial applications. All dumbbells utilize bigger, steel alloy bolts that are longer and stronger than the competition. PFDC-C dumbbells featured here consist of 32mm contoured handles with special deep set knurling for functional performance and Troy premium grade, black textured, machined plates. The steel, chrome end caps include the TROY name and numbers tags for easy identification. Available in 2.5 lb. increments starting at 5 lbs. up to 52.5 lbs. and in 5 lb. increments up to 150 lbs.
---
Troy Barbell & Fitness Authorized Dealer
EquipFitness is the authorized dealer of Troy Barbell & Fitness products for Nevada, California, Utah & Arizona. For more than 20 years Troy Barbell has been the industry leader in quality and innovation fitness products for home and commercial environments.
Whether you're looking to outfit a gym, apartment, school or home, Troy Fitness delivers stylish durability and value with three distinct product lines each uniquely engineered for your specific application.
Troy Barbell & Fitness Commitment
Troy Barbell & Fitness has warranties that set the industry standard and they understand that the strength of any warranty is only as good as the people who stand behind them; That's why Troy, VTX & USA Brand equipment is only sold through a network of committed, authorized dealer partners like Equip Fitness and backed by a team of passionate free-weight enthusiasts.
If you ever have a question, comment or concern, we're eager to provide an answer. Please feel free to contact us directly at (702) 617-6198.