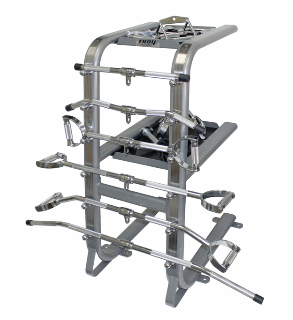 TROY Accessory Rack with Attachments and Accessories
In this complete package, our GTAR accessory rack is fully loaded with 11 of our most popular cable attachments (12 total) : 1ea TLB-48S,TSPLB-34S,TPLB-34S,TPLB-24S,TCB-28S,TSB-020S, ATR-36,GTVB,TDSH,GCT & 2ea TCCH-D.
Rack Dimensions: 18" L x 28" W x 42" H
Product Description: This stylish Accessory Rack is a convenient storage place for collars, ropes, and cable attachments. It can store 6 bar handles 20" and wider and hold many accessories in one of the 2 rubber lined trays. The chrome wear guard protects the paint finish.